Mobile market is growing in strength. We spend more and more on paid applications
Indisputable indications are that last year was a booming time for the mobile industry. The average amount spent on mobile apps per active iPhone user in the United States rose to $138. According to agency Sensor Tower, this represents a 38% increase through 2019. This includes expenses for the purchase of applications, including premium software.
Average revenue per active iPhone
Spending on applications last year reached a new record, as it saw the largest annual increase since 2016, when it grew by 42 percent over 2015. While a 27 percent increase (from $79 to $100) has been noticed between 2018 and 2019. Revival of consumer spending on mobile apps It reflects the global trends, as a result of which the recipients show more and more interest in paid applications.
Most popular app categories among U.S. users
Spending on devices designed for mobile gaming increased from $53.80 (in 2019) to $76.80 (in 2020). This represents a year-over-year increase of 43%, significantly higher than 2019 (22%). Data analysis shows that iPhone users in the United States spent the most on puzzle games ($15.5 on average), and in the "casino" category, the average U.S. consumer spent $13.10. Experts at Sensor Tower point out that the success of the previously mentioned category is the COVID-19 pandemic, as consumers were looking for activities at home and new ways to connect with friends. This is reflected in the surge of interest in the Open World Adventure gaming system, which often includes a multiplayer and social gaming option. Along with this type of mobile app, there has also been growth in the entertainment category. The closure of catering facilities and cinemas has caused many consumers to fill their free time with entertainment in the form of applications. Average software spending in this category averaged $10.20, up 26% from the $8.10 spent in 2019. It is interesting to note that the surge in interest in apps that provide entertainment increased during the COVID-19 pandemic, with only 1% growth in 2018-2019.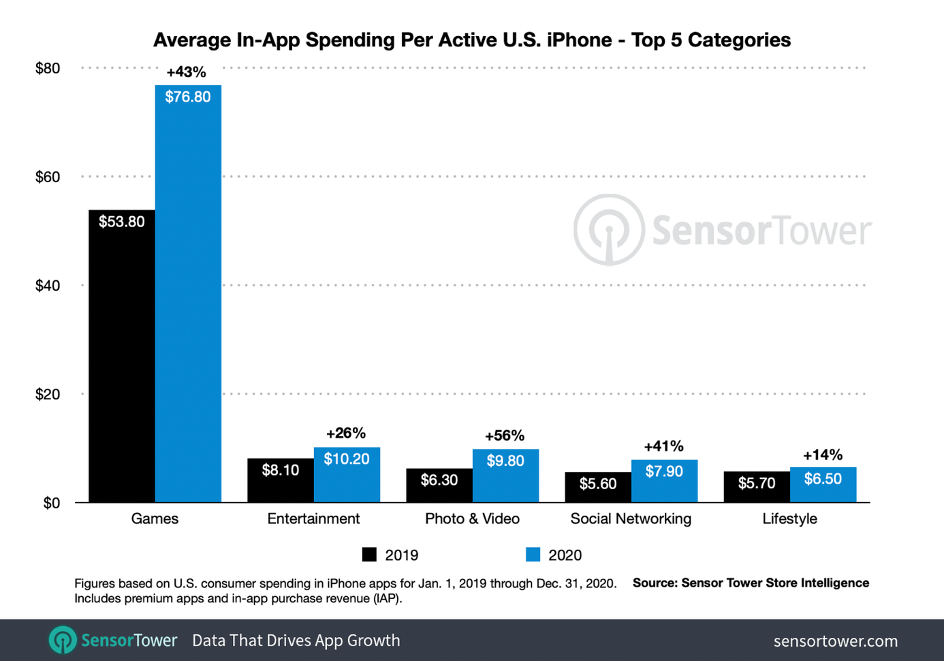 Average consumer spending on mobile apps per iPhone in the U.S. has grown roughly 15% each year. Experts at Sensor Tower indicate that this trend is unlikely to stop or decline. Despite the fact that restrictions are now being loosened and consumer habits are changing as a result, they do not predict a slump in the mobile market. Sensor Tower notes that 2021 may see less significant year-over-year growth than 2020, but this doesn't imply a decline in mobile revenue growth, rather it shows how unusual last year was due to the unexpected coronavirus pandemic.